With a year off, and no bluedot at Jodrell Bank this summer, we're looking back on four spectacular editions of the festival, hosting some of the most prolific names in music, science, arts and cosmic culture. From huge headline performances (the likes of Underworld, Jean-Michel Jarre and Caribou in 2016 to Kraftwerk, New Order and Hot Chip in July 2019.
Here's some of our favourite moments so far of our intergalactic festival of discovery – head to the comments section to share yours.
JEAN-MICHEL JARRE, 2016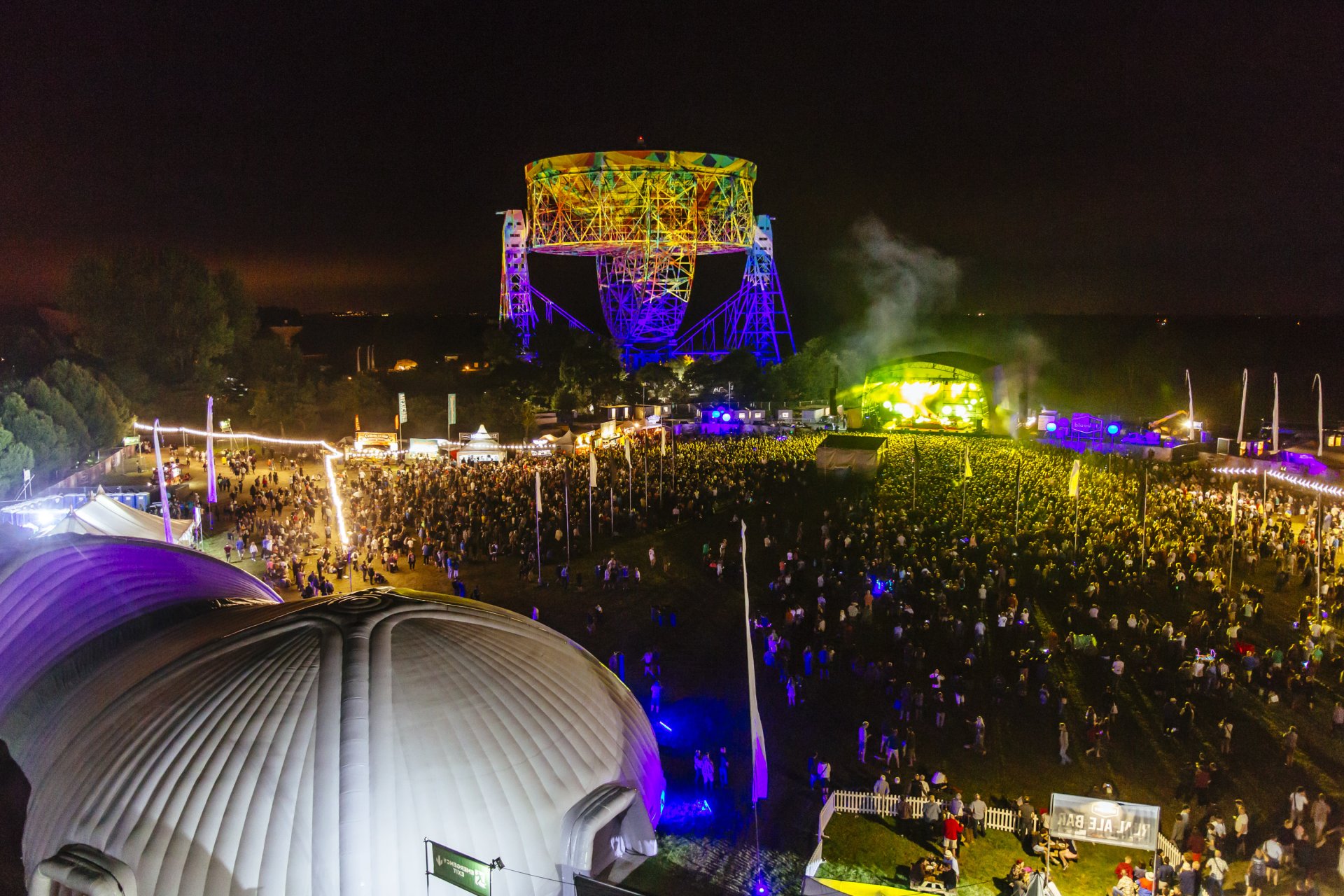 An out of this world headline set from Jean Michel Jarre, headlining the inaugural bluedot in 2016. Career-spanning classics and a mind-bending laser harp that had to be seen to be believed, all paired with an extraordinary visual accompaniment.
LIVE MOONBOUNCE WITH TIM O'BRIEN, 2019
Working with the Dwingeloo Telescope in the Netherlands and Jodrell Bank's Lovell Telescope to bounce audio from Kraftwerk, Jon Hopkins, Anna Calvi and messages from festival goers off the Moon at bluedot 2019.
THE MEN BEHIND THE MASK, 2017
A once in a lifetime opportunity for any Star Wars fan as we invited Brian Muir, who scuplted Darth Vader's helmet, and David Prowse, who wore the Darth Vader suit, to bluedot 2017 for a very special interactive Q&A session.
KRAFTWERK, 2019
Electronic pioneers Kraftwerk joined us a futuristic 3D show beneath the Lovell Telescope in 2019. A headline set that will go down in the history of bluedot as one of the best.
'EARTH' BY LUKE JERRAM, 2018
We welcomed the world premiere of Luke Jerram's 'Earth' in 2018, giving us the opportunity to view our pale blue dot from the perspective of how astronauts would see it from space. Earth has become a staple of the bluedot experience, a scale model of our home (and amazing for photos!)
JAMES BURKE, 2019
We were privileged to invite British broadcaster James Burke to bluedot 2019 to celebrate 50 years to the day since the Apollo 11 mission. He was in conversation with author & TV presenter Dallas Campbell to discuss the BBC coverage of the Moon Landing in 1969, as well as his broadcasting career and one of the best timed moments in TV history.
THE CHEMICAL BROTHERS, 2018
The Chemical Brothers closed bluedot 2018, premiering their outstanding new live show in the UK and music from their 2019 album 'No Geography'. A favourite set at bluedot HQ. We also invited them into the heart of Jodrell Bank – the observatory's control room – for a special tour.
BLUE PLANET, 2018
We opened our doors for on the Thursday for the first time in 2018 with The Blue Planet in Concert, performed by The Hallé Orchestra. The spectacular show combined live music against a backdrop of remarkable footage from the original Blue Planet 2001 documentary series.
HELEN SHARMAN, 2019
A truly inspirational DotTalk in bluedot 2019 from the UK's first astronaut Helen Sharman, as she shared her story of working on the MIR Space Station to a packed out Mission Control.
WAYNE COYNE IN CONVERSATION, 2018
A meeting of great music and science minds in 2018 as The Flaming Lips frontman Wayne Coyne was In Conversation with Professor Tim O'Brien, Associate Director Jodrell Bank Centre for Astrophysics, and avid explorer of exploding stars.
CLANGERS 50TH ANNIVERSARY PANEL, 2019
Clangers celebrated their 50th anniversary at bluedot 2019 with an exclusive premiere of their new episode made especially for the 50th anniversary of the 1969 Moon Landing, alongside a special Q&A hosted by Maggie Aderin-Pocock with the team behind the Clangers.
We'd love to know your highlights from the last four years of bluedot – leave your favourite moments in the comments!