Here at bluedot, we bring together the worlds of music, science and culture in a joyous celebration of human creativity.
We're so excited about our science programme this year!
Curated by Jodrell Bank, the talks programme alone brings together over 60 speakers and panellists to talk about their research, their discoveries and their challenges. Some of the brightest minds in the UK will be here to illuminate our minds!
Some of them will be signing books at the festival bookshop over the weekend too, so do go and have a chat to them there too.
Jodrell Bank has also organised a completely unique fairground of science, which will bring a further 400 scientists to the site over the weekend.
They'll be stationed on 40 stands with hand-on activities, for children, young and old, showcasing their research and giving you the chance to speak directly with some of the scientists doing the most exciting work in the cosmos – astronomy, space research, the Antarctic, the environment and so much more.
They're looking forward to meeting you and you can ask them anything you like about their work. (There's no such thing as a stupid question!)
Many exhibitor stands will also hold regular drop-in workshops each day (which replace the smaller number of pre-booked workshops last year) so there will be lots of opportunities for activities over the weekend.
Your exhibitors at bluedot 2023 include…
Royal Society of Chemistry
Charge ahead of Climate Change with the Royal Society of Chemistry
Calling all sustainability enthusiasts! Can you make a battery out of a lemon? Can you 3D-print a dinosaur using old coffee cups? Can the sun power a car? Join our scientists from the Royal Society of Chemistry's Early Career Network to find out the answers by conducting your own electrifying science experiments!
Come and get involved! You'll be enlightened and entertained by our hands-on activities aimed at budding scientists of all ages and abilities. We're positive that you'll enjoy powering-up our toy cars using solar, hydrogen or battery power to charge ahead of the competition. Choose your supplies from fruits, coins and clips to make your own battery and light up our voltage leader board. Prepare to be shocked as you watch a 3D-printer transform waste plastic into useful education tools right before your eyes!
We hope to spark your interest in sustainability because together we can make a difference and save planet Earth from fossil fuel and plastic pollution.
QET Labs, University of Bristol
Quest Quantum
From quantum gaming to laser jigsaw puzzles, 'Quest Quantum' brings you closer to the fascinating world of quantum science and technology. By using light on a nanoscale and exploring the realms of non-classical Physics, our scientists are working towards transforming everyday technology, taking us places yet to be discovered. Meet our researchers and find out how quantum could reshape the world around us!
Guerilla Archaeology/Cardiff University
Museum SOS
Calling all scientists of the human past. There has been a museum mash-up and we need you to help us sort out our store. Finds from some of the most important ancient sites in the UK have been mixed up. Guerilla Archaeology want to train citizen scientists to help in our race against time – and get the objects back to their secure store. Come along grab a fragment of pot, bone or stone and learn new skills to help identify our objects and sites and reveal how people lived in ancient times.
Chester Zoo
Chester Zoo Preventing Extinction
At Chester Zoo our mission is preventing extinction. We work in the zoo and with our partners around the world protecting important and threatened species, alongside the unique ecosystems that they call home. Join the Chester Zoo team for an insight into conservation science; from using poo to increase breeding success in rhinos, to saving anteaters from dangerous roads, and restoring landscapes that benefit wildlife and people.
University of Manchester Physics Outreach
Ever wondered how different planets and stars affect the fabric of spacetime or why some materials don't behave as you would expect? With our science busking we aim to answer these questions and many more. We have a wide variety of demos including but not limited to, a van der Graaf generator that will help you understand the formation of lightnings, a spacetime demo to unlock the mysteries of gravity and a non-Newtonian fluid that will allow you to see how materials properties can change under different conditions.
Practical Action
Practical Action is an international development organisation that puts ingenious ideas to work so people in poverty can change their world.
Visit our stand for an insight into our work. Take part in hands-on activities that bring our solutions to life including virtual reality. Chat with our project staff about their experiences working in extreme environments around the world. And pick up tips for living more sustainably inspired by pioneering communities on the front line of climate change.
British Geological Survey
Modern life doesn't grow on trees
The British Geological Survey is a world-leading geological survey and global geoscience organisation, focused on public-good science for government and research to understand earth and environmental processes.
The Commoditree is a large installation with all the electrical trappings of modern life emerging from its branches, grown from mineral specimens in its roots and trunk. The tree provokes questions about items that sustain modern lives, encouraging audiences to consider how the race to clean energy impacts the planet. The stall is interactive and visitors are encouraged to touch and explore to better understand the role of critical minerals in their lives.
Manchester Centre for Audiology and Deafness (University of Manchester)
Safe and Sound: How loud is too loud?
How are we able to hear and enjoy the sounds at Bluedot? At the "Safe and Sound" stand, you will be able to explore the science of sound, examine sound levels around the festival site, and discover how our ears make it possible for us to hear. However, too much noise can damage our hearing, so we also have activities to help you understand how loud is "too loud" and how you can protect your delicate ears. After all, hearing is the best of the five senses, or so we at the Manchester Centre for Audiology and Deafness (ManCAD) think.
Humanitarian and Conflict Response Institute
The Humanitarian and Conflict Response stall will showcase the research and teaching work of the institute, which is based at The University of Manchester. Visitors will learn about the work our researchers are doing on climate-change induced disasters and their impact. Younger visitors can come and engage with us creatively to draw/paint/build ideas of disaster resilient bridges and buildings, or animals with special powers that can fight the impacts of climate change!
British Antarctic Survey
British Antarctic Survey works to uncover the secrets of Earth's frozen places, from the depths of the oceans to the inner edge of space. We have been living and working in the extremes of Antarctica and the Arctic for over 60 years.
What happens in Antarctica doesn't stay in Antarctica. Our planet's frozen regions are changing in ways that impact the entire planet, and at a rate and scale we haven't seen before. We're working to understand why, what this means for the inhabitants of Earth, and what we can do about it.
Community Mapping
At Community Mapping, our goal is to create maps of previously un-mapped areas of the world, to help address chronic humanitarian crises.
Our methods are simple, volunteers fill in blanks on the map by drawing around buildings, tracks, and other features that can be seen in satellite imagery on OpenStreetMap. The data is made freely available for anyone who wants it and supports the production of digital and paper maps that are freely available to local people.
We work closely with local partners, using a bespoke paper-based system to validate the data that we have created at events like Blue Dot!
University of Liverpool
One Medicine: Poorly Pets and People
Did you know that doctors, dentists and vets often use the same bits of kit? We call this approach where human and animal healthcare advance hand in hand 'One Medicine'. But how does taking x-rays of a horse compare to taking x-rays of a person? And how do their bones and joints compare to ours? Join researchers from veterinary, medical and dentistry backgrounds at the University of Liverpool, who are all working together to advance the field of 'One Medicine' research. Step inside our consulting room and have a go on our portable ultrasound, try out the X-Ray lightbox and discover more about the amazing technology we're using to diagnose and treat animals and humans!
Dalton Nuclear Institute
Let's talk about nuclear
The University of Manchester's Dalton Nuclear Institute is the largest nuclear research capability in UK academia – more than 300 individuals are investigating everything from radioactive waste and environmental clean-up, nuclear reactors and fuel, to fusion energy, robotics and AI for extreme environments, nuclear medicine and even the social elements of nuclear energy.
We will share the fascinating research we carry out – illuminating the impact it has on our society and environment, including reaching Net Zero by 2050 and the 100+ year plan to clean-up the UK's legacy nuclear sites and radioactive waste.
Carbon Co-Op and People Powered Retrofit
Carbon Co-op and People Powered Retrofit are sister cooperatives interested in helping people and communities make reductions in home carbon emissions to avoid climate change.
Carbon Co-op are an energy services and advocacy cooperative, we help individuals work together to reduce their energy usage and make a meaningful impact on their local energy economy.
People Powered Retrofit is a non profit, one stop shop offering clear, independent advice and support to help homeowners plan, procure and deliver home retrofit projects to a high standard.
Both organisations operate in communities across the North West, with links to other community organisations nationally and beyond.
Earth and Solar System
Space Rocks!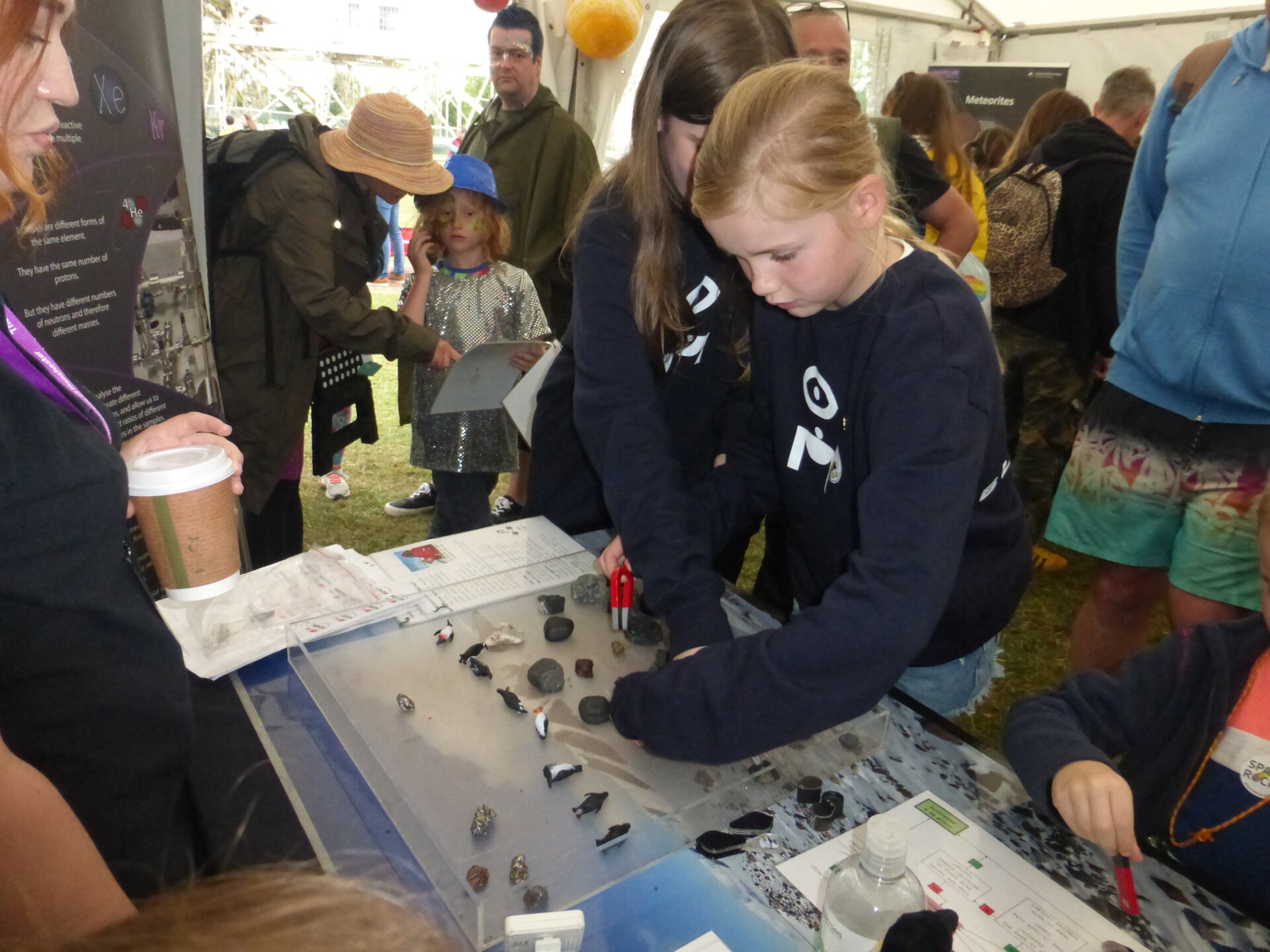 What does a piece of the Moon look like up close? Have you held the core of an asteroid?
We're bringing space rocks to Bluedot! Join the Earth and Solar System team from the Department of Earth and Environmental Sciences to hold pieces of the Moon collected by the Apollo astronauts. Get up-close and personal with meteorites from asteroids, the Moon and Mars
Try out some space sleuthing yourself by trying out the tricks and techniques used by astro-geologists from the Earth and Solar System team to find meteorites here on Earth.
AstrobiologyOU
How can we look for life on another planet? AstrobiologyOU needs your help in the search for life in the Solar System. Come and discover how Earth mimic's environments on Mars and the icy moons of the outer Solar System, and how we can use these to understand more about where we might find life beyond the Earth. You can even show us what you think life in space would look like! While you're at it, you can also talk to some of the scientists currently working to understand the potential for life in space.
University of Manchester Astro Soc and Macclesfield Astro Soc
Watch The Skies!
The University of Manchester Astronomy Society is a safe space where people can enjoy and appreciate the wonders of the universe for students of any university. We collaborate with several societies on different events and organise weekly activities for our members. All are free to join us on this adventure as we battle the weather gods and do space stuff.
Macclesfield Astronomical Society (MaccAstro) are the astronomy group local to Jodrell Bank. We will be interacting with the festival visitors about the universe, space exploration, and what you can see in the sky, and if weather conditions permit we will enable you to safely look at the sun in detail with special solar telescopes. We will have information available and some spectacular images of the sky taken by our group members, and will be able to explain to visitors how to start observing the sky if they are interested.
Macclesfield RSPB Wildlife Explorers
Join volunteers from Macclesfield RSPB Wildlife Explorers to learn all about our incredible local wildlife, from garden birds and butterflies to wildflowers and invertebrates through a range of activities and challenges suitable for all ages.
Take the 'Homes for Wildlife' quiz to discover more about providing man-made homes for wild creatures.
Meet Emily the swift and find out how conservation work being done nationwide will help these incredible summer visitors.
Plus the 'Weird and Wonderful Nature Table' returns yet again with a whole host of new and fascinating items on display – how many can you identify?
Lancaster University
Experiencing The Future Mundane
The Future Mundane is an immersive audio-visual experience that takes place within a teardrop caravan that has been designed to imitate a possible living room of the future equipped with a variety of gadgets. The audience is guided through the experience by the AI voice who controls the living room, revealing our potential future relationship with AI and the amount of data that we as users are willing to share in return for more personalised entertainment experiences.
The Rosalind Franklin Institute
Making Molecular Movies
Have you ever wondered what is happening inside your cells, and how your cell's function affects your overall health? The Rosalind Franklin Institute researchers are using their skills to build new technologies to explore the inner workings of cells and provide insights which may help identify targets for new medicines. At our stand, you can create your own cell images, explore how we can see inside cells, and make your own molecular movies of the inside of cells with researchers from the Rosalind Franklin Institute.
SKA Observatory
The SKA Observatory is a next-generation radio astronomy observatory. Its two telescope arrays will allow us to study the first stars and galaxies, black holes, dark matter and much more, helping transform our understanding of the Universe. With 197 telescope dishes in South Africa, 131,072 antennas located in Australia, and organisations in 16 different countries currently taking part in the project, SKAO is truly a global observatory! Its Headquarters are right here at Jodrell Bank!
Come and visit our stand at bluedot, have fun with our activities and meet some of the amazing people working on the SKAO project.
Zooniverse
The Zooniverse is the world's largest online platform for people-powered research. Our stall, Enter the Zooniverse, allows festival goers to contribute to real world research in real time. Zooniverse team members will engage festival goers with projects ranging from the astronomical (e.g. classifying images of galaxies by shape), to the environmental (e.g. counting penguins in the far reaches of Antarctica), and everything in-between. Data submitted by volunteers will be used by the researchers, and festival-goers will be informed on how they can continue to contribute to research via the Zooniverse website.
Royal Aeronautical Society
The Royal Aeronautical Society, also known as the RAeS, is the world's only professional membership association dedicated to the aerospace and aviation industry. Founded in 1866, it is the oldest aeronautical society in the world. Come and see us to chat about the industry and get involved in aerospace and aviation themed activities catering for all ages.
ScienceGrrl
ScienceGrrl is a network supporting and celebrating women and non-binary people in science – we believe that science is for everyone.
At Bluedot this year we will be sharing the wonder of our universe with hands-on activities for all ages. There'll be something new every day, but the same friendly team to greet you!l
MicroAge Mission
The stall will showcase our exciting MicroAge1 work undertaken on the International Space Station in December 2021 when we sent engineered 3D skeletal muscle constructs to the ISS and subjected them to 'exercise'. We will present our exciting findings which demonstrate that the muscle constructs resemble muscles of older people on earth. We will showcase our follow-on MicroAge2 project due to launch to the ISS in 2025. We will provide hands -on equipment to measure muscle strength practically by hand grip measures and squat measurements of leg strength with accredited advice on how to help maintain muscle strength with exercises.
The Making Rooms
Like making things? So do we! Our team has returned to BlueDot for the 5th time with our amazing making machines!
We've brought back our ever popular solar-system-necklace-making-automaton! Come by the stand, type in your birthdate and ta-da, a necklace showing where the planets were on the day you were born! You can also create solar systems greetings cards 😀
Imagination Lancaster, School of Design, Lancaster University
The Repair Shop 2049: Fixing the Future for Smart Devices
How smart are our smart devices if we cannot repair them? By 2030, 25 billion smart devices like phones, speakers and watches will be in everyday use worldwide. When their hardware breaks or software will not support updates, many will end up in landfill contributing to climate change. The Repair Shop 2049 stall will feature fun and creative activities run in conjunction with The Making Rooms Blackburn which help to highlight how communities can begin to improve the repair of smart tech at a local level. This will include how to solder your own LED light up Repair Shop 2049 badge!
Explore the Universe from Jodrell Bank
Engage in conversations with researchers at the Jodrell Bank Centre for Astrophysics to explore their studies of space, ranging from the Sun to the origins of the Universe during the Big Bang. Witness captivating displays of recent scientific discoveries made by telescopes located at Jodrell Bank and worldwide, including the Lovell Telescope, e-MERLIN array, MeerKAT, and the James Webb Space Telescope. Immerse yourself in the vast expanse of the Universe using our virtual reality headset, explore the invisible universe with our infrared camera, observe the spiral arms of the Milky Way in real time, listen to captivating space sounds, and participate in science-art activities. We've ensured there will be something for all ages.
Tyndall Centre
Living for the Future – low carbon lifestyles and climate change
Climate change is one of the biggest problems that the word faces. While it is a global problem, the millions of small actions we do every day are part of the solution. At this stall we have activities based on Tyndall Manchester research about the role of everyday actions and material use in responding to climate change. Through interactive games our researchers will talk you through what the latest environmental and social science can tell us about living in a low carbon way.
University of Manchester Graphene
Graphene City
Walk through the history of graphene from discovery to future application. Make your own graphene and see how researchers are exploiting the incredible properties of this one-atom-thick material and other 2D materials.
The Royce Institute
Marvellous Materials at Royce!
Join the Henry Royce Institute stand to explore the fascinating world of materials science!
You'll have the opportunity to test the strength of various materials by breaking them, learn about the incredible power of atoms, discover the properties of metals and how to transform them, and even create your own materials that change shape and colour!
Advanced Biomedical Materials at the University of Manchester and the University of Sheffield
From Plants to Implants
Tissue engineering aims to build replacement body parts to help or replace injured tissue. To do this we need to make sure we have a good scaffold to build our tissue around. We take inspiration from nature to design these whether from existing body structures or even plants!
On the stand visitors will rummage through a jungle and select a leaf or plant part to explore under the microscope Visitors can handle a wide range of models which demonstrate the variety of scaffolds we find in plants and understand the challenges we need to overcome to create human tissue.
Women of Science Trail
Women of Science is a campaign to promote role models of real women in Science. Engineering, Technology, and Maths. There will be a Women of Science picture trail at this years Bluedot Festival, can you find all 10 photographs of Women of Science scientists and engineers over the weekend?
plus University of Sussex, The James Webb Telescope and EBUKI